View the Term of Consent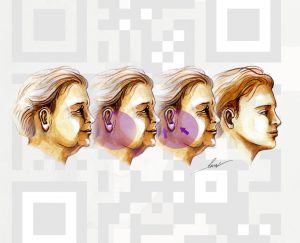 Fig .: Face profile showing cervical-facial flaccidity and palpebral flaccidity. With wrinkles in the naso-genial and glabellar regions. Skin detachment area and plication of SMAS (superficial muscle-aponeurotic system); With arrows showing the direction of traction of the flaps (anteriorly at the tragus-tubercle auricular direction, later following the line of the mandible). Final result, after Rhytidectomy + Blepharoplasty + Submento liposuction + wrinkle filling with Hyaluronic Acid. The scars are hidden around the ear and inside the hair. WE DO NOT USE MORE DRAINS.
Technical name: Rhytidectomy or Cervico-Facial Lifting.
Body Part: Face and Neck.
Objectives: To mitigate the flaccid skin of the cheeks (mainly on the lower 1/3 of the face) and the neck. Reposition fatty tissue below the skin (SMAS – superficial muscle-aponeurotic system).
Recommended age: from 45 years old. It varies depending on the excess skin.
Anesthesia: local with sedation (in most cases).
Duration of surgery: 2.5 hours on average.
Hospital stay: on average 24 hours.
Location of the scar: discrete around the ear, practically hidden by the hair. We used the retro-tragal incision (not visible on the front of the ear). The points are internal, being absorbed around 1 month. Some inner dots are given behind the ear with colorless mononylon yarn, to give greater durability to the result.
Preoperative:
Laboratory examinations (Complete blood count, Coagulogram, Blood glucose, optional anti-HIV, Urine examination, E.C.G. and chest X-ray PA for over 40 years) and medical photography. Avoid smoking 15 days before, at least. Do not use Acetyl Salicylic Acid (ASA, Aspirin) or anticoagulant medications, as well as Ginko biloba, for 15 days before and 7 days after surgery.
Postoperative:
Day 1: Rest in bed with headrest raised to 30 degrees. Get up just to go to the bathroom, slowly. Avoid lowering your head or making jerky movements and keeping your neck extended to prevent bruising. Light diet at the end of the day. Medications taken at the hospital: Antibiotic (Kefara 1g EV of 12 / 12h), Anti-inflammatory (Profenid 01 amp EV of 12 / 12h), Analgesic (Tramal 01 amp EV if you have pain). Other usual medications for vomiting, stomach, antihypertensive.
2nd day: the dressing is renewed. Medications taken at home (WITH MEDICAL RECIPE): Antibiotic (Cefadroxil 500mg VO of 12 / 12h box with 8 comp.), Anti-inflammatory (Biprofenid 01 comp. VO every 12 hours), Analgesic (Dipirone or Tylex 30mg VO if pain) And the usual ones. We used to sleep an elastic band on the side of the face and neck for a week, to prevent bruising and protect the scar at night.
4th day: wash the hair with neutral shampoo, gently massaging.
Day 7: Lymphatic Drainage started (10 to 20 manual sessions).
Recovery time: 10 to 20 days.
Associated surgeries: Blepharoplasty (eyelid surgery) or Sub-chin liposuction (chin) – to eliminate double chin.
Ritidoplasty Care
Wash your hair gently after the fourth day of surgery.
Apply topical antiseptic (70% alcohol, colorless Merthiolate or Rifocin spray) on the scarring of the ear.
Cleaning the face with neutral soap. And cutaneous cream (Vit.K1 and Arnica) for ecchymoses.
Sleep from dorsal decubitus (belly up), and exercises only after 1 month.
Do not pick up sun for at least 2 months. Photoprotector 30 FPS daily.
Edema: decreases 50% with 1 month and 100% with 3 months.
In case of a high scar, massage for one minute with Rosehip Cream at 15% + Tamoxifen Citrate 0,1%; Or 0.5% Triamcinolone + 0.5% Hydrocortisone. In case of reddish scar, use Kelo-cote gel 2 times a day.
The scar may turn red for up to 6 months. In this case, do not expose yourself to the sun and avoid crustacean.
Return for one month, two, four, and six month reviews. Final return for photography and possible retouching with one year.